BIOMEDICAL PRODUCT MANAGER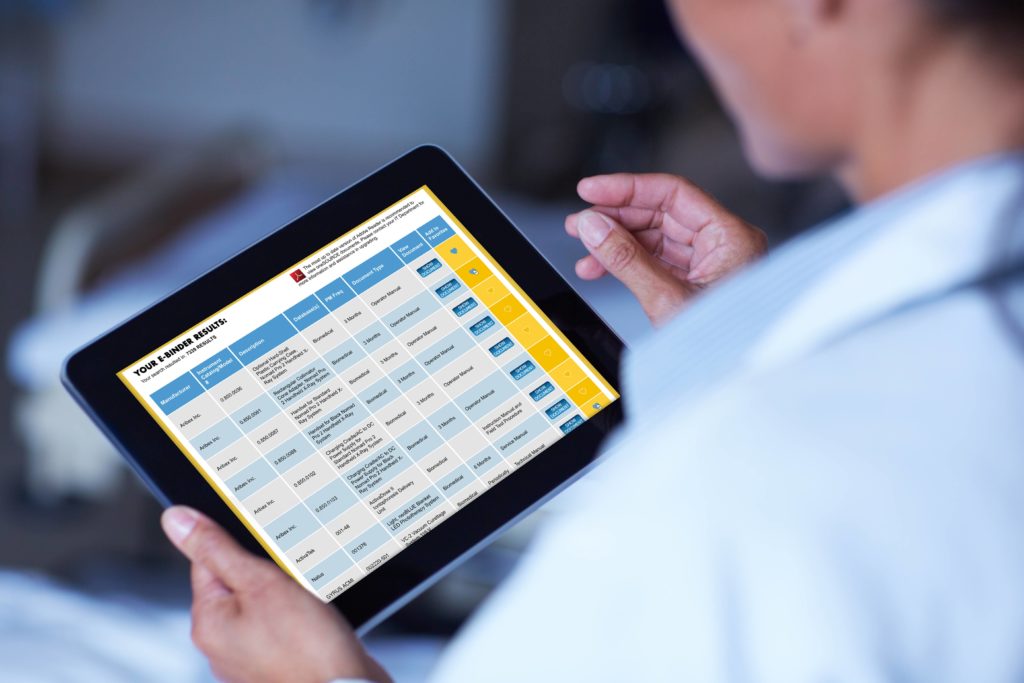 Who am I and Why am I Here?
I'm very excited to join the team at oneSOURCE™ Document Management Service, the most complete source of medical device Instructions for Use (IFU) and biomedical equipment preventive maintenance (PM) service documents.
So, there's the answer to the first question in the title; the second won't be answered as easily!
Going Back a Bit (But Not Too Far)
I've had a few careers in my life. Let's quickly move past the brief era as a drummer for a touring rock band (circa late-1990s) while also working as an automotive technician. We'll pick up the story in 2008.
After graduating that year with honors from Milwaukee Area Technical College with an Associates of Applied Science in Biomedical Electronics Technology, I was a Biomedical Equipment Technician (BMET) – a proud "Biomed." Later, armed with additional Certified Biomedical Equipment Technician (CBET) and Certified Laser Repair Technician (CLRT) certifications, I was privileged to put these skills to use at Children's Hospital of Wisconsin (Milwaukee) and Elmbrook Memorial Hospital, Wheaton Franciscan Healthcare (Brookfield, WI) for nine years. While with Wheaton (later a part of Ascension), it was a pleasure to work for multiple third party health care management teams (HTMs) including Aramark, Sodexo and TriMedx.
The Biomed World
It was indeed a privilege and a pleasure because there's nothing quite like supporting a surgical team by getting laser or anesthesia equipment (my two areas of specialty) up and running when the clock is ticking in an Operating Room environment. And even though I left that career earlier last year, I haven't left the Biomed world – I'll always consider myself a BMET.
I previously chaired the Advisory Committee at my alma mater and now teach in the Biomedical Electronics Technology program there, helping me stay attuned to developments in the Biomed profession and creating a new generation of skilled and adept BMETS.
Bigger and Better Things
That takes us to oneSOURCE. Given my background, I'm engaged mostly on oneSOURCE's biomedical side – the company's Biomedical Document Database containing manufacturers' Preventive Maintenance (PM) documents.
In addition to reaching out to HTM teams, I've been pulled onto internal work groups as we continually improve the Database and its accessibility based on client feedback and suggestions.
It Takes One to Know (and Support) One
Biomeds are independent and self-reliant. We know if we are given enough time we can do all things – fully book our shifts with equipment maintenance, repair and the special projects that always seem to find their way to the Clinical Engineering Department (taking time for the emergency calls while often being tasked with avoiding overtime). And then there's the need to build and maintain our own collection of the critical maintenance documents we refer to constantly.
I get that. All I can do is assure my fellow Biomeds that the oneSOURCE Biomedical Document Database works and will take a lot of busy-work off their plates – busy-work BMETs simply don't have time for. I assisted in the Database's development while I was a technician, and now as the Biomedical Product Manager, I help ensure that it's carefully maintained and continually improved.
We have other Biomeds at OneSOURCE working every day to obtain and upload biomed PM manuals, as well as a separate dedicated team to secure manufacturers' updates. After all, the Joint Commission and CMS need to verify not only that HTMs have access to all the necessary service documents but that the revisions are up to date.
I'm not a sales guy by nature – I'll always be an educator and a BMET, with a passion for patient care. With oneSOURCE, that passion plays out exponentially to benefit patients around the country and around the world.
That's why I'm at oneSOURCE! The company has been around for more than a decade and they've built a great product. But now, with an experienced and accomplished BMET on board in my position, our service and support will be better than ever!